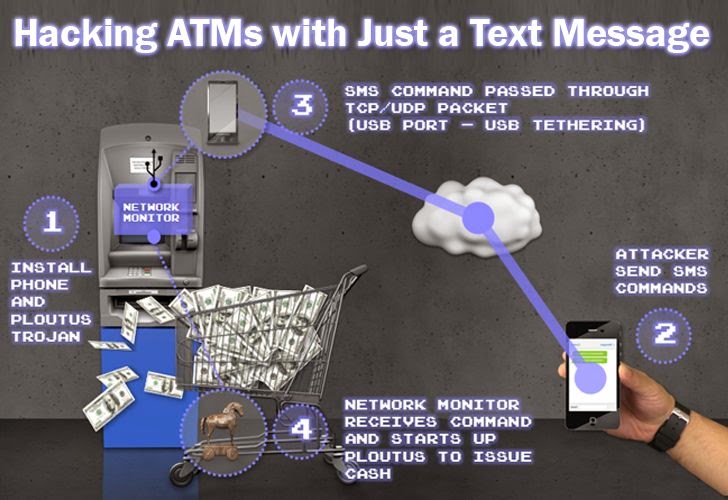 អ្នកស្រាវជ្រាវផ្នែកសន្តិសុខមកពីក្រុមហ៊ុន Symantec បានអៈអាងថា អ្នកវាយប្រហារតាមអិនធឺណែត (hackers) អាចធ្វើការ វាយប្រហារទៅលើចំនុចខ្សោយនៅក្នុង Windows XP ដែលប្រើប្រាស់ក្នុងម៉ាសីុន ATM ដែលអាចអនុញ្ញាតឲ្យពួកគេ ធ្វើការ ដកលុយដោយគ្រាន់តែធ្វើការផ្ញើរនូវសារ SMS ទៅកាន់ម៉ាសីុន ATM ដែលរងគ្រោះនោះតែប៉ុណ្ណោះ។
អ្នកស្រាវជ្រាវបាននិយាយថា អ្វីដែលគួរឲ្យចាប់អារម្មណ៍នោះគឺថា មេរោគឈ្មោះ Ploutus អាចអនុញ្ញាតឲ្យឧក្រិដ្ឋជន ធ្វើការ ផ្ញើរនូវសារសារមញ្ញមួយទៅកាន់ម៉ាសីុន ATM ដែលរងគ្រោះនោះ ហើយបន្ទាប់មកធ្វើការប្រមូលយកលុយតែម្តង។ វាមើលទៅ ហាក់ដូចជាមិនគួរឲ្យជឿ ប៉ុន្តែបច្ចេកទេសនេះត្រូវបានប្រើប្រាស់នៅក្នុងទីកន្លែងជាច្រើន នៅជុំវិញពិភពលោកក្នុងពេលនេះ។
ក្នុងឆ្នាំ ២០១៣ អ្នកស្រាវជ្រាវបានរកឃើញនូវមេរោគមួយឈ្មោះថា Backdoor.Ploutus ដែលបានបញ្ចូលទៅក្នុងម៉ាសីុន ATM នៅប្រទេស Mexico ដែលត្រូវបានគេបង្កើតឡើងដើម្បីលួចយកនូវលុយពីម៉ាសីុន ​ATM ដាច់តែឯងដោយប្រើប្រាស់តែ text message ប៉ុណ្ណោះ។
វិធីសាស្ត្រក្នុងការវាយប្រហារលើម៉ាសីុន ATMs៖
Connect a mobile phone to the machine with a USB cable and install Ploutus Malware.
The attacker sends two SMS messages to the mobile phone inside the ATM.

SMS 1 contains a valid activation ID to activate the malware
SMS 2 contains a valid dispense command to get the money out

Mobile attached inside the ATM detects valid incoming SMS messages and forwards them to the ATM as a TCP or UDP packet.
Network packet monitor (NPM) module coded in the malware receives the TCP/UDP packet and if it contains a valid command, it will execute Ploutus
Amount for Cash withdrawal is pre-configured inside the malware
Finally, the hacker can collect cash from the hacked ATM machine.
សូមទស្សនាវិដេអូខាងក្រោម អំពីវីធីសាស្ត្រ៖
អ្នកស្រាវជ្រាវក៏បានធ្វើការរកឃើញថា មាននូវមុខងារស្មុគស្មាញផ្សេងទៀតនៃមេរោគប្រភេទនេះ ដែលខ្លះបានព្យាយាមធ្វើការ លួចយកនូវទិន្នន័យកាតនិងលេខសម្ងាត់របស់អតិថិជន ហើយមានខ្លះទៀតព្យាយាមវាយប្រហារបែប man-in-middle attacks។
មេរោគនេះឥឡូវបានធ្វើការរីករាលដាលទៅកាន់ប្រទេសដទៃទៀត ហេតុដូច្នេះហើយអ្នកត្រូវតែមានការប្រុងប្រយ័ត្នខ្ពស់ ហើយ ប្រុងប្រយ័ត្ននៅពេលប្រើប្រាស់ម៉ាសីុន ATM។