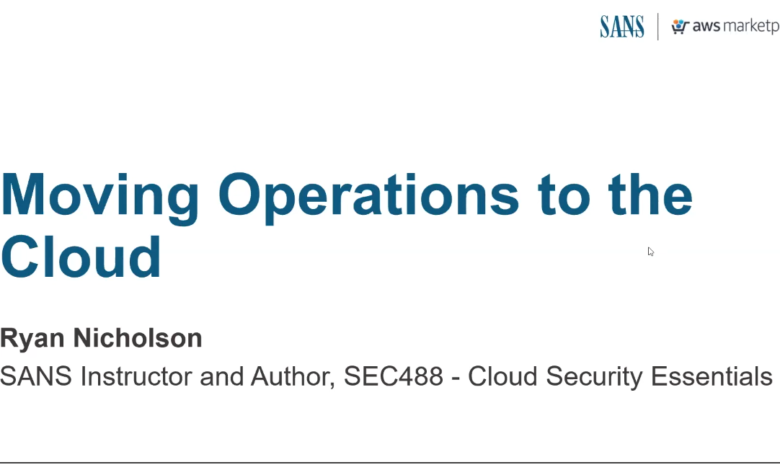 When an organization moves an application or service from one environment to another without stopping to redesign the application, this is often referred to as lift and shift. Many organizations, as an initial effort to move applications and services into the cloud, choose this strategy to make the move less painful and more familiar to their existing operating environment. This results in a mainly Infrastructure as a Service (IaaS) hosting environment. Although this is not the most efficient use of cloud, it is still a very common occurrence.
This talk will guide you through some of the nuances that cloud brings to your organization when transitioning from on-premise to an IaaS cloud environment and to better prepare you to defend these, now cloud-hosted, applications and services. Several, of which, are discussed in much greater detail in SANS SEC488: Cloud Security Essentials.
About the Speaker
Ryan's passion for information technology started in 2001 when he found himself constantly trying to make his high school's computers and even calculators do things that they weren't exactly intended to do. They lacked games, so he learned how to create some. Yes, some may call this hacking. Ryan called it "fun", which led to attending college with intentions of becoming a software engineer. During school, Ryan obtained an internship with a very cybersecurity-minded organization — the Defense Information Systems Agency (DISA). Ever since then, he's been hooked on cybersecurity. Ryan is the author for the new SEC488: Cloud Security Essentials and an instructor for SEC530: Defensible Security Architecture and Engineering.
សម្រាប់អ្នកដែលចង់តាមដានព័ត៌មាននៅក្នុងស្មាតហ្វូន អាចធ្វើការទាញយក App នៅក្នុង ​AppStore & PlayStore ។
ចូលរួមទៅក្នុងបន្ទប់ផ្តល់ព័ត៌មាន Telegram channel សម្រាប់ទទួលបានព័ត៌មានចុងក្រោយស្តីពីសន្តិសុខអុិនធឺណិតទាំងក្នុង និងក្រៅប្រទេស៖ https://t.me/infosecisac។ ចង់ផ្សព្វផ្សាយពាណិជ្ជកម្ម សូមទំនាក់ទំនង info@secudemy.com
Subscribe to our Telegram channel for the latest updates on the Cybersecurity Breaking News in both locally and internationally: https://t.me/infosecisac.