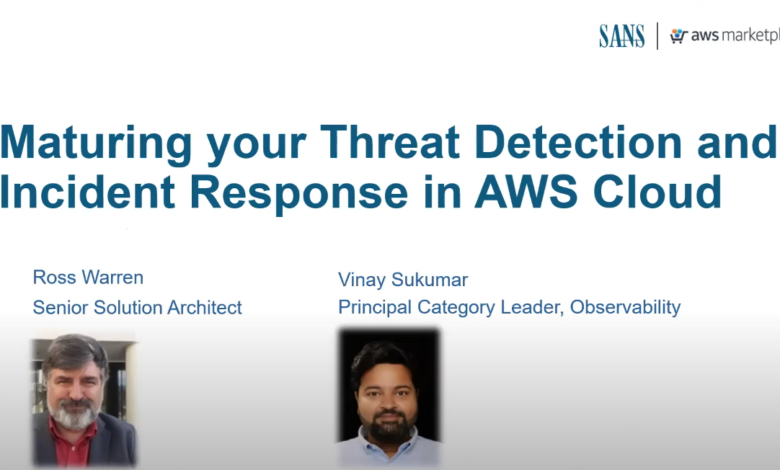 To continuously mature your Threat Detection and Incident Response in AWS you need a well thought out strategy that aligns with your business requirements and goals. While there are several tools available in this category, a mature practice requires an integrated framework that combines people, process and technology.
In reality, CISOs and Security Operations Managers have to plan their strategy around budget and resource constraints without compromising on business outcomes. In this session we will begin with a high level overview of a mature Threat Detection and Incident Response model in the cloud, and discuss the stages in this maturity model one can target to meet their requirements. We will discuss native AWS security services and third party solutions as part of this model based on how some AWS customers, small to very large enterprises, have successfully implemented their Threat Detection and Incident Response programs.
About the Speakers
Ross Warren Based in Northern Virginia, Ross is a specialist solution architect at AWS with a focus on security. Prior to his work at AWS, Ross's areas of expertise included cyber threat hunting and security operations. Ross has worked at a handful of startups and has enjoyed the transition to AWS because he can build solutions for customers with the breadth and depth of services offered by AWS. Vinay Sukumar Vinay Sukumar is a Principal Category Leader (Security Intelligence) at Amazon Web Services. He has over 10 years of experience in cybersecurity working with SIEM, vulnerability assessment, threat intelligence, and IAM solutions in various capacities including as a practitioner and product manager. As a category leader in AWS Marketplace, Vinay partners with leading security solution providers to enable end-to-end security practice on AWS platform. Vinay has presented at various conferences including BlackHat, RSA, and IBM Think on topics of threat detection and response.
សម្រាប់អ្នកដែលចង់តាមដានព័ត៌មាននៅក្នុងស្មាតហ្វូន អាចធ្វើការទាញយក App នៅក្នុង ​AppStore & PlayStore ។
ចូលរួមទៅក្នុងបន្ទប់ផ្តល់ព័ត៌មាន Telegram channel សម្រាប់ទទួលបានព័ត៌មានចុងក្រោយស្តីពីសន្តិសុខអុិនធឺណិតទាំងក្នុង និងក្រៅប្រទេស៖ https://t.me/infosecisac។ ចង់ផ្សព្វផ្សាយពាណិជ្ជកម្ម សូមទំនាក់ទំនង info@secudemy.com
Subscribe to our Telegram channel for the latest updates on the Cybersecurity Breaking News in both locally and internationally: https://t.me/infosecisac.