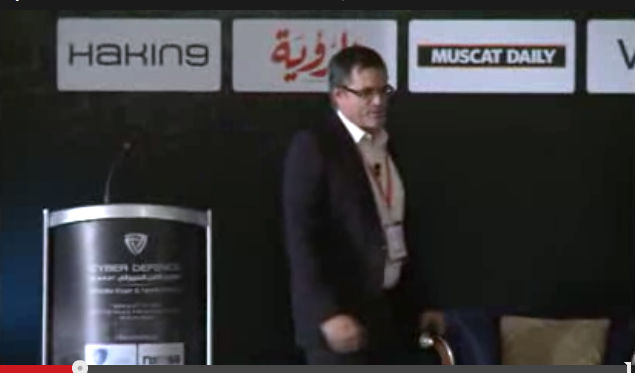 Kevin Cardwell delivers the opening keynote at the Cyber Defence Summit – Middle East & North Africa held on March 4 and 5, 2013 in Muscat, Oman.
The summit was co-orgnaised by Oman National CERT and naseba, it hosted more than 300 IT professionals from the MENA region.
Kevin Cardwell spent 22 years in the U.S. Navy, during this time he tested and evaluated Surveillance and Weapon system software, some of this work was on projects like the Multi-Sensor Torpedo Alertment Processor (MSTRAP), Tactical Decision Support System (TDSS), Computer Aided Dead Reckoning Tracer (CADRT), Advanced Radar Periscope Discrimination and Detection (ARPDD), and the Remote Mine Hunting System (RMHS) He served as the Leading Chief of Information Security at the NOC for six years prior to retiring from the U.S. Navy.