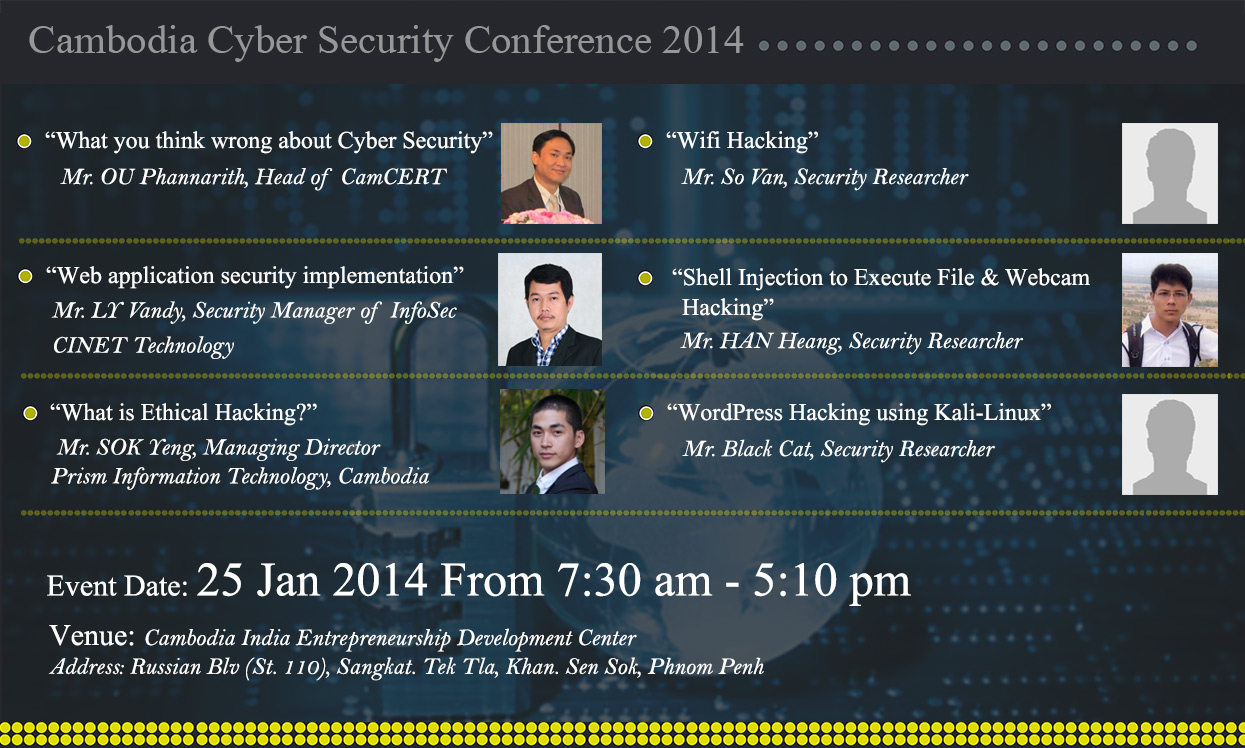 អ្វីដែលអ្នកទន្ទឹងរង់ចាំជាយូរបានមកដល់ហើយ គឺព្រឹត្តិការណ៍ "Cambodia CyberSecurity 2014"  ដែលប្រជុំដោយវាគ្មិន ដែលមានបទពិសោធន៍យូរឆ្នាំ ខាងផ្នែកសន្តិសុខព័ត៌មាន (information Security)។ ចូររួមជាមួយយើងខ្ញុំទាំងអស់គ្នា នាថ្ងៃទី ២៥ ខែមករា ឆ្នាំ២០១៤ នេះ។
1. Introduction
This workshop is running for Cyber Security awareness to all sectors in Cambodia. Cyber Security is a big concern of any data stolen or destruction by any attackers. This conference will then prepare for any individual or organization that has their new research paper to submit to us so that we will invite them to join the event for presentation.
This event is not belonging to any person, it is for everyone to learn and share together to improve information security in Cambodia. More than just showing about any theory, practical demonstration, we also apply any cyber security role and policies to all the audience to know in order to make their next research to be in line of country law and regulation.
2. Who should attend?
This event has been specifically designed for those who are interested in Information Security area such as CIO, CTO, CISO, CSO, Head of IT Section, Network Engineer, Head of Network Section, Network Security Officer, Data Center Officer, IT Security Officer, Website Administrator, Web Developers, IT students, …etc.
3. Benefit of attending
Learn how to protect your Web Application and Hacking Techniques
Understand the risk of using Internet in your company
What is Ethical Hacking and how hacker attack you
Have your burning questions answered by expert during discussion
4. Tentative Agenda (Last Update 24/01/2014)
7.30 – 8.40  – Registration
8.40 – 9.00  – Opening Remark "Cambodia CyberSecurity 2014"
9.00 – 9.30  – "What you think wrong about CyberSecurity" by Mr. OU Phannarith | Founder, SecuDemy.com
9.30 – 10:00 – "How to Audit Web Application Security" by Mr. LY Vandy | InfoSec Manager, CINET Technology
10.00 – 10.30 – "What is Ethical Hacking?" by Mr. SOK Yeng | Managing Director (Cambodia), Prism Information Technology
10.30 – 11.00 – "Choosing the right Website Design & Hosting Provider" by Mr. Ngim Bunny | General Manager, ServingWeb Solution
11.00 – 12.00 – Panelist Discussion
12.00 – 13.30 – Break
13.30 – 14.00 – "WiFi Hacking" by Mr. SO Van | Security Researcher
14.00 – 14.30 – "Shell Injection to Executable File" by Mr. HAN Heang| Security Researcher
14.30 – 15.00 – "WordPress Hacking Using Kali Linux" by Mr. Black Cat| Security Researcher
15.00 – 15.30 – "Hacking Across Planet" by Mr. JAO Komsot | Script Kitty Researcher
15.30 – 16.30 – Penalist Discussion
16.30 – End-of-Workshop
ខាងក្រោមនេះគឺជាទីតាំងរបស់ CIEDC