The Big Shift to the Cloud: Cloud Security in the Time of Covid -19
The onset of the pandemic has thrown normalcy out of gear. There is talk of a "new normal", which continues to be defined and remains as broad as ever. The synapse between the COVID-19 pandemic and cloud security imperatives can be addressed with a call to action that the new cyber & cloud security strategy on the anvil can address. There must be sync with these modern realities and adaptation along with the willingness to innovate for future disruptions which will in turn reinvigorate our trust and boost our digital immunity.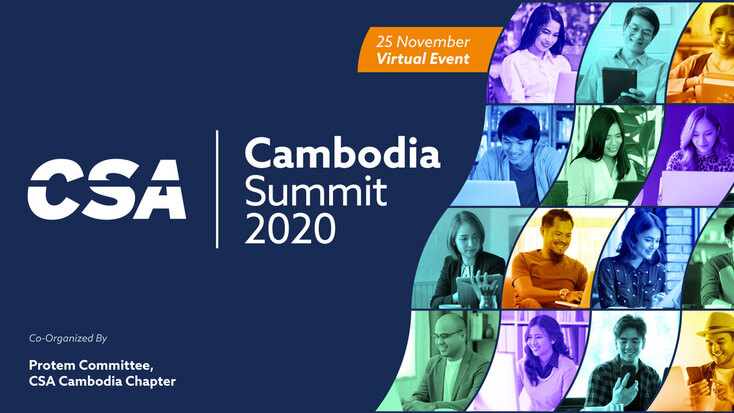 Join leading experts from Cambodia with domain proficiency and expertise to discuss the key issues and trends facing cloud security and cybersecurity today at this virtual Summit organized by CSA APAC & Protem Committee of CSA Cambodia Chapter on 25 November 2020.
For registration, please check the session below:
Time
Activity
Session Link
9:00 am
Welcome Remarks
​Ou PHANNARITH (Director of ICT Security, Ministry of Post and Telecommunications (MPTC), Cambodia)
​
Opening Keynote
Dr. Sang SINAWONG (Under Secretary of State, MPTC, Cambodia)
Join Session
9:45 am
Towards a Secure Cloud Ecosystem in Cambodia
Dr. Hing-Yan LEE (EVP, CSA APAC)
Join Session
10:30 am
ICT Development in Cambodia
​Mok KHEMERA (Director of E-Government)
Join Session
11:15 am
Cloud Security 101
Sarbojit M BOSE (Education Director, CSA Singapore Chapter & CCSK Instructor)
Join Session
12:00 pm
Securing the Cloud via CCSK
Ekta MISHRA (APAC Membership Director & Country Manager – India, CSA)
Join Session
12:45 pm
Panel Discussion : Journey to Cloud Adoption
Moderator: ​Ou PHANNARITH (Director of ICT Security, MPTC, Cambodia)

Panelists :
​Mok KHEMERA (Director of E-Government)
Dr. Hing-Yan LEE (EVP, CSA APAC) ​
Nipaul LONG (CTO, PlasGate Co., Ltd.)​
Join Session
Click "Join Session" to register yourself.
For a complete list of speakers, please go to
https://www.csaapac.org/csacambodiavirtualsummit2020.html
For any enquiries, please email us at csa-apac-info@cloudsecurityalliance.org.